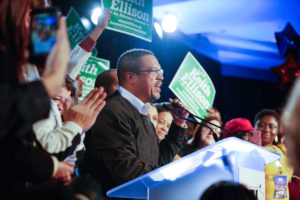 BY DEBRA KEEFER RAMAGE
The most nail-biting local race was Keith Ellison's last-minute, quixotic run for Minnesota attorney general. He had an absolute safe seat in Congress, one of the safest, and was deputy chair of the DNC, a leader in the Progressive Caucus, and sponsor of the House version of the single-payer healthcare proposal.
The county commissioner win for challenger Angela Conley was both the first result announced and the best immediate high for me and most voters and campaign workers. Pure euphoria. The race was far less close in outcome than it seemed in the campaign process. Conley is the first person of color ever on the Hennepin County Board. Yeah!
A very close second in celebratoriness, but one of the last to be "final" due to a couple of very slow precincts, was Metro Transit police supervisor Dave Hutch's stunning but painfully close victory over incumbent Richard Stanek. Whereas the losing incumbent Peter McLaughlin in the District 4 race was a fondly remembered, fairly progressive DFLer, Stanek was a Trumpist Republican and the most despised local official by most leftists in town for his enthusiastic cooperation with ICE, his medieval methods of running the county jail, and for sending militarized deputies and tanks etc., to Standing Rock to violently attack Water Protectors, among other crimes. So yeah, he's gone. In further county action, Mike Freeman won a close victory over challenger Mark Haase for county attorney.
Around about this time there were enough statewide precincts reporting to declare officially that the MN House had been flipped to DFL. A collective sigh of relief. The victories of Tim Walz for governor and Peggy Flanagan for lieutenant governor, and of both female DFL incumbent U.S. senators, was almost anticlimactic, even though it wasn't late in coming. Minneapolis School Board results were not a big surprise; both DFL-endorsed candidates, Kimberly Caprini and Josh Pauley, won. Sadly, the School Board will say good-bye to its only real questioner of the corporatist reform agenda, Rebecca Gagnon. On both School Board ballot questions, an overwhelming Yes, and also on the liquor license ballot question for Minneapolis.
The outlook for the resistance movement—LGBTQTI, Black Lives Matter, anti-ICE, antifascist, socialists, labor, women, and antiwar (Did I miss anyone?)—is this: Don't rest (too much). Now is when the Persistence part comes into its own.