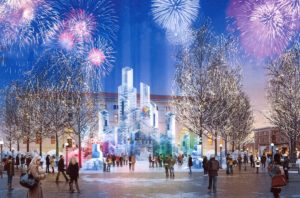 BY DEBRA KEEFER RAMAGE
We have a stunning lineup of interesting things to do or alternative ways to shop or give for the 2018 holiday season. In order to have enough space for all, not all details are given for all events. For well-known events and venues, almost no details; exercise your web search skills and you will find. For some very well-known events, such as the Guthrie's "A Christmas Carol," (which is happening) we didn't even include it, in order to leave room for the unusual, the very local, or just random stuff that we thought needed a small explanation. Because it's hyper-local and we know there will be questions, let us say that sadly In the Heart of the Beast has no holiday show for the second year in a row. We heard a rumor that frequent La Natividad partner St. Paul's Lutheran Church would have a neighborhood posada, but we are unable to confirm. The offerings are in three groups, in loosely chronological order, and websites are only given where they might be a challenge to find. We hope to see you at some of these!
Theater, Comedy & Puppets
"How the Grinch Stole Christmas" at The Children's Theatre Company, 11/6 – 1/6. See
https://www.childrenstheatre.org for tickets and details.
"It's A Wonderful Life: A Live Radio Play" at the Saint Paul Hotel, 350 Market Street, Saint Paul. 12/6 – 12/24. Presents playwright Joe Landry's acclaimed take on the classic 1946 Frank Capra film, "It's a Wonderful Life." The shows are accompanied by a three-course luncheon for afternoon performances and a three-course dinner for evening performances. See https://www.saintpaulhotel.com/happenings/its-a-wonderful-life for a link to dates and tickets.
"Triple Espresso" at Park Square Theater, Andy Boss Thrust Stage, 11/9 – 1/13. Features three hilarious performers as they reminisce about their ill-fated big break—Hugh Butternut, Buzz Maxwell and Bobby Bean, a musician, an illusionist and a comic entertainer, for whom nothing ever goes quite the way it was meant to.
"Angels We Have Heard Are High (O Holy Crap!)" by Brave New Workshop. Previews 11/2 – 11/8. Main run 11/9 – 1/26/19. The usual irreverent craziness. Get tickets ($20 – 39) online.
"Mystery Science Theater 3000" at the State Theater, Saturday, 11/17, 7 p.m. with "The Brain" and 10 p.m. with DeathStalker II. Live 30th Anniversary tour with original host and creator, Joel Hodgson. More details and tickets: https://hennepintheatretrust.org/events/
Langston Hughes' "Black Nativity" directed by Lou Bellamy at Penumbra Theater, 270 N. Kent Street, Saint Paul. 11/29 – 12/23, evening shows 7:30 p.m., Saturday matinees 2 p.m., Sunday matinees 4 p.m. Musical direction by Sanford Moore with the Kingdom Life Church Choir & choreography by Uri Sands. Today, kids who grew up with Black Nativity are returning with their own families. A Twin Cities legend.
"The Wickhams: Christmas at Pemberley" at the Jungle Theater, co-commissioned world premiere by Lauren Gunderson & Margot Melcon directed by Christina Baldwin. 12/1 – 12/30. A follow-up to last season's hit "Miss Bennet," "The Wickhams" takes us downstairs where servants are bustling with the arrival of holiday guests. In the warmth of the Darcy kitchen, family secrets are revealed and loyalties are tested. A holiday tale full of mirth, wit and the power of giving back to others.
"Patrick Dewane Presents Home for Christmas, 1944" at Open-Eye Figure Theatre, 12/13 – 12/15. Written and performed by Patrick Dewane. A winter miracle in WWII changes the lives of two soldiers … while a modern heartwarming story connects past to present. Told with actual footage from WWII, this amazing one-man show will surprise and delight. Tickets and more detail at http://www.openeyetheatre.org/home-for-christmas-1944/
Concerts, Musicals & Dance
"Mary Poppins, Jr." at Stages Theatre, 1111 Mainstreet, Hopkins. 11/16 – 12/27. "Disney and Cameron Mackintosh's" musical with original music and lyrics by Richard M. and Robert B. Sherman, book by Julian Fellowes, new songs and music by George Stiles and Anthony Drewe. Co-created by Cameron Mackintosh, based on the stories of P.L. Travers and the Walt Disney film. Tickets at the website https://www.stagestheatre.org/
Dolly Parton's "Smoky Mountain Christmas Carol" at the Ordway Center for the Performing Arts in St. Paul, 11/17-18. In a new musical making its world premiere, Charles Dickens' "A Christmas Carol" gets moved to Dolly Parton's East Tennessee homeland. A live acoustic band performs Parton's new original score to brighten up the grouchy, dreary, cantankerous tale of mining company boss Ebenezer Scrooge.
"Brass Messengers Live Recording Party" at Hook and Ladder, 11/23, 7:30 p.m. More information at https://www.facebook.com/events/743409042662410/
Various Nutcracker options: "Hip Hop Nutcracker" (Brooklyn-based Decadancetheatre, guest MC Kurtis Blow) at the Ordway, 11/20 – 11/21. Or the "Great Russian Nutcracker" (Moscow Ballet) at the Orpheum Theatre, Downtown Minneapolis, 11/30 – 12/3. Or Loyce Houlton's "Nutcracker Fantasy" (MN Dance Theatre) at the State Theatre, 12/14 – 12/23. Or "The Nutcracker" (Ashley Ballet Arts Academy) at MN Masonic Heritage Center in Bloomington, 12/14 – 12/16. Or "Nutcracker (not so) Suite" (James Sewell Ballet) at the Cowles Center, 12/22, a kinky version featuring Barbie and Ken and set in 1960s America.
Man-sized Action Christmas concert at the Eagles Bar, 12/15, 7 p.m. till after midnight. You asked for it and you've got it: "The Return of It's a Man Sized Action Christmas," featuring Man Sized Action, Arcwelder, The Mighty Mofos, Dragnet, and The Silverteens!! More at https://www.facebook.com/events/467093233799046/
"Christmas with Cantus," 12/21, 7:30 p.m. Ordway Theater, Downtown Saint Paul. Our Christmas with Cantus presents a modern take on the "Festival of Nine Lessons and Carols," reimagined for our world today.
"The Night Before Christmas: A Musical Fantasy," featuring the Sounds of Blackness singers and band, at Pantages Theatre, 12/22. A contemporary adaptation of the beloved poem, "A Visit From St Nicholas." The music ranges from R&B/Hip-Hop to Jazz, Blues and Gospel.
Handel's "Messiah," St Paul Chamber Orchestra plus singers. 12/20 at 7:30 p.m. and 12/21 at 8 p.m. at the Basilica of Saint Mary; 12/22 at 8 p.m. and 12/23 at 2 p.m. at the Ordway Concert Hall, Downtown Saint Paul.
Trans-Siberian Orchestra at Xcel Energy Center, Saint Paul. This year's 20th anniversary tour, a presentation of Trans-Siberian Orchestra's unforgettable "The Ghosts of Christmas Eve," features founder/composer/lyricist Paul O'Neill's timeless story of a runaway who finds her way into a mysterious abandoned theater.
Festivals, Fairs & Miscellany
Minneapolis Craftstravaganza and Craft'za at Grain Belt Bottling House, 79 13th Ave. NE, Mpls., 11/17, all day. More information at https://www.facebook.com/events/211065629755110/
Walker Church Holiday Art Fair, Walker Community UMC, 11/17 – 11/18. Over 30 artists, mostly local, plus books and CDs. Walker is selling homemade hot soup, bread, coffee and treats to enhance your shopping experience. Also for sale (new this year) Fair Trade Coffee, Chocolate, Tea, and Olive Oil.
Gingerbread Wonderland at Norway House, Opens 11/17 through 1/7. Open Tues. – Sat. 10 a.m. – 4 p.m.; Sun. 11 a.m. to 3 p.m. Closed Mondays and holidays. Admission $5 but under 12 or Norway House members free.
Excelsior Christkindlsmarkt in the lot behind Excelsior Brewing, 421 3rd St., Excelsior. 11/23 – 11/25. Shop for German treasures, snack and sip on European fare, and watch the Grande Parade. Family-friendly, open-air event features Alaskan reindeer, a Sugar Plum Fairy-themed kids' center, a North Pole Trolley, and the adult-favorite Biergarten, open to 10 p.m.
Making Spirits Bright winter lights display at Landscape Arboretum 11/23 – 1/6/19, 5 p.m. Check out https://www.facebook.com/events/1477177692426009/
Small Business Saturday on 11/24. After Black Friday, support local business owners for Small Business Saturday all across the state. In Minneapolis, the annual jam-packed party outside Sociable Cider Werks features Minnesota artisans, food trucks, local vendors, live music and unique ciders.
2018 Open House & Sale at Gayla Ellis's home, 3212 10th Ave. S., on Saturday, 12/1, 11 a.m. – 5 p.m. and Sunday, 12/2, noon – 5 p.m. Features about 20 local vendors of art, crafts, music, video and books. Gayla's photo cards and other local artists' work also available at May Day Cafe, The Color Wheel Gallery, and The Art Shoppe at Midtown Global Market. Questions or special orders: [email protected]
No Coast Craftorama at Midtown Global Exchange, 12/7, 3 – 8 p.m. & 12/8, 9 a.m.- 5 p.m. More info at https://www.facebook.com/events/1969598983107713/
Saint Paul Old-fashioned Holiday Bazaar at the Landmark Center, downtown. 11/29 – 12/1. The 40th annual one, with about 75 booths of handcrafted gift items by area artists. Also, enjoy festive music and delicious treats. Admission $5; Age 12 and younger, free.
The Great Northern. Includes the St. Paul Winter Carnival in downtown Saint Paul, U.S. Pond Hockey Championships on Lake Nokomis, and Loppet Festival in Uptown. As part of the Winter Carnival, visitors can enjoy live music in Rice Park, marvel at the beauty of the Ecolab Ice Palace, slide down the giant snow slide at Vulcan Snow Park, and more. 1/24 – 2/3 at various locations in St. Paul and Minneapolis. http://thegreatnorthernfestival.com
PHOTO CAPTION: Ice Palace at Rice Park