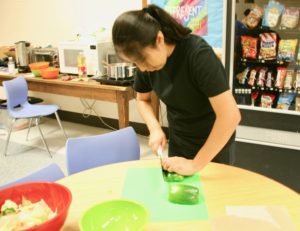 BY STEPHANIE FOX
A few years ago, Roosevelt High School teacher Ben Rengstrof noticed that while classes offered by the Minneapolis School District focused primarily on getting students into college, programs in basic life skills were lacking. He had an interest in cooking—at the time, just a hobby—but decided that he needed to do something about what he saw as an important educational gap. Rengstrof had been teaching classes in English as a Second Language and Spanish for 10 years, but cut back his teaching duties to half time and enrolled in the Culinary Arts Program at Saint Paul College, graduating with an associate of science degree. His goal was to start a cooking class and then to expand offerings, eventually bringing food education back to the public school curriculum. He started last year by teaching an after-school, non-credit cooking class. The word spread, and this year's class, held in the teacher's lounge at Folwell Performing Arts Middle School, was in demand, with a dozen slots, all of which filled quickly. "The first 12 students to get their forms in were all girls," said Rengstrof. "We have a waiting list of 30 students, both boys and girls."
On a Thursday afternoon in early October, eight of those girls, all middle schoolers, 6th through 8th graders, showed up at their second class, ready to cook. As part of the class, Rengstrof has each student write a short essay into personal journals. This day, the students wrote about a person who they'd cook for or eat with. "They will be building a recipe book, with personal reflections," said Rengstrof. Joining the class' teaching team was chef Mark Augustine, the school district's executive chef, and 15-year-old Joseph Javier, a 10th-grade student at Venture Academy Charter School, who says he wanted to share his knowledge of cooking with other students. Javier says he plans to run a restaurant after he graduates from Harvard Business School and attends chef school. Also showing up was Emily Reese, host of the morning jazz show on Jazz88 radio. She was there to record the thoughts from some of the girls, with a plan to interview several each week and to broadcast them on her show.
Some of the students were already experienced cooks, but others were beginners. Rengstrof passed out the day's recipe for turkey chili, walking the students through some of the cooking terminology, such as how many teaspoons are in a tablespoon and the difference between diced and minced vegetables. The new cooks gathered around the round tables with chopping mats and large chef's knives, learning to dice and mince onions and sweet peppers, assisted by chefs Rengstrof and Augustine. The chefs showed the students how to hold a knife and how to protect their fingers when cutting vegetables. There are a couple of casualities— minor cuts from sharp knives and opening cans of tomatoes, repaired with Band-Aids. "It's just part of cooking," Augustine said. "But, be careful." While the students diced the vegetables, Javier was busy browning the ground turkey, onions and the garlic. He's forced to use a portable hotplate since there are no stoves in the teacher's lounge, but he manages, adding the additional ingredients, such as the cumin, cinnamon, paprika and chili powder, with each of the students getting a chance to stir the chili. "It's a team effort," said Rengstrof. The team chili was a hit with the students and visitors.
Rengstrof's plan for the rest of the year is to expose his students to various cuisines from around the world, including Asian, Latin American and Italian. And every three weeks, he says, they'll make sweets. "Next week," he tells his students, "we'll be making cupcakes." This October, Rengstrof was named one of 10 James Beard Foundation's National Merit Scholars. He plans to use his $20,000 award to further his plans for school-based food-centered education. He will be studying for a master's degree in sustainable food systems from Green Mountain College in Vermont, an online/residency program, and is making plans to develop culinary and food systems programs for the Minneapolis School System. He also hopes to coordinate with the urban farming class at Roosevelt High School, "to connect the school food system as much as possible and to implement what I learn in the master's program. I'm also talking with Youth Farm and Spark-Y around ways we can collaborate," he said. Starting in January Rengstrof says he'll be implementing a cooking class at Roosevelt High School for ESL students. "I'm going to bring in Twin Cities chefs to work with the students and share their recipes with them. I'm especially interested in chefs like Jamal Hashi from Jambo! Kitchen, Alejandro Castillon of Sonora Grill, and Christina Nguyen of Hola Arepa. We will also be collaborating with the Urban Farming class at Roosevelt to connect our school food system." The current class, he said, is funded through MPS Community Education. "The Folwell program has been incredibly generous and supportive. That said, we have a very tight budget." Some ingredients for the chili (scallions, radishes and cilantro) were left out of the chili to save money. "We don't have any sponsors now, but would certainly be open to them" he said.
PHOTO CAPTION: Learning to mince sweet peppers