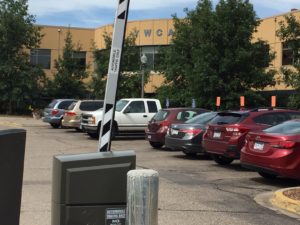 BY LUZ MARIA FRIAS, PRESIDENT AND CEO, YWCA Minneapolis
For years, YWCA Downtown and Uptown locations have charged for parking. We decided to implement a pay parking system at YWCA Midtown to address the misuse happening in our lot, and to ensure there are enough available spaces for our fitness members and program participants.
We have made several attempts to address parking issues at YWCA Midtown over the years, without adding extra costs to members, such as implementing a hanging parking tag system for members and having staff monitor the lot. Assigning YWCA employees to monitor and patrol the lot is ineffective, unsafe and expensive. Our priority is to keep our employees safe while focused on delivering mission-related services to our clientele.
The pay parking gate is an automated system that will address parking misuse before an unauthorized driver parks in our lot, relieve safety concerns for staff and serve members into the future as the neighborhood continues to change.
It is, however, an expensive project. As a nonprofit, we are charging members fees to help defray the cost of the installation and maintenance of the new parking system. For the cost of these fees, members will benefit from an easier, more convenient parking experience. YWCA Minneapolis offers competitive monthly membership fees that remain lower than other full service fitness centers in the area, even with added parking fees.
Members do get a significant discount on parking (40 percent off or more depending on the frequency of parking) if they choose the monthly parking card for $15/month, plus tax. (We are offering a discount on monthly parking cards during the month of November at $10/month, plus tax.) We are also offering an ongoing senior discount on this monthly parking card for $10/month, plus tax. We recognize the financial burden for low-income households and are providing free parking cards to those who qualify for member scholarships. This is not the only option for members, however. Members may also choose to pay by the hour or load a stored value card, for a 10 percent discount on hourly fees.
We have been listening to members' feedback and concerns since we announced this change. Richard Taylor has been one member who has voiced criticism of this change in the Southside Pride and has written many inaccuracies in his opinion pieces. We stand by the statement that we did not mistreat member, Ms. Doris Overby. She was simply asked to take her petition off YWCA property (and could freely seek signatures elsewhere) where it did not disrupt other members' fitness routines, workouts or family time. We have continually offered to try to find a resolution with Ms. Doris Overby and Mr. Richard Taylor and they have been unwilling to meet with our management. However, operational decisions are made by YWCA Management and our Board of Directors and we will not hold a public forum on this issue.
We are doing our best to listen carefully to members' concerns, address each question and offer adequate information about why this change was made and how the new parking gates will work. We have gotten many responses from members who welcome the change and see the benefits that having an automatic parking gate system will bring.
To learn more about parking at YWCA, you can visit our website at ywcampls.org/notices.