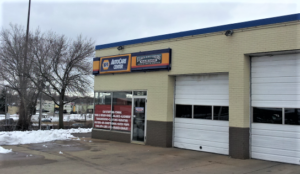 BY STEPHANIE FOX
In 1891, 17 years before Richfield officially became a city, John Elsen bought a small property at 7730 Portland Ave. and soon opened a blacksmith shop. He did not imagine that in 2023, his shop would become the city's longest continuing operating business. And during those 130 years the shop changed often, sometimes radically, always keeping up with the times.
More than 30 years after opening his blacksmith business, with the rise of the age of the automobile and the diminished need for blacksmiths, Elsen transformed his shop. By 1929, more than a quarter of American families owned a gasoline-powered vehicle and Elsen Pure Oil gas station and auto repair shop was already serving the growing need for auto repair and fuel.
The station passed from John to his son Eugene, then to grandsons Rich and Don Elsen. But on April 14, current owners Bob and Joe Elsen, the great-grandsons of the shop's founder, were forced to close after 130 years in business, after learning of the state of Minnesota's plans to bulldoze the shop in order to widen Interstate Highway 494. When the shop's sign announced the closing, longtime customers began coming in to say goodbye.
Bob Elsen has been working at the shop since high school. His brother Joe joined him shortly after that. "They trusted us to keep the business going," Joe said of his family, "and we did due to being honest and fair with our customers." Their attention to customers and their cars won them several "Best Repair Shop" awards.
Bob has been semi-retired for several years and enjoys doing volunteer work and playing golf. Joe's retirement plans are, he said, nothing special. "I'll work on projects and spend some time traveling." But, Joe said, "I'm going to miss our customers. They've been coming in lately, bringing us doughnuts and cookies. I'm going to miss seeing them all. I'd really like to thank everyone – the customers, the suppliers, our vendors and our employees over the years."
Over those years, Bob and Joe began by pumping gas, cleaning windshields and checking oil levels when customers filled up their cars.
"I started out as a kid, working the night shift after school. We were open seven days a week," Bob said. Joe, too, worked during his high school years starting 50 years ago and has been a part owner for 30 years.
The 1973 gas crisis brought more changes. The station shortened its hours and then closed on Saturdays. Many car companies radically changed their technology as a response to the 1970s and the gas crisis. "There's a world of difference in cars from the 1960s and 1970s. Back then you had emission systems with carburetors. Now, you have electric ignitions and fuel injection. Back then, 40 years ago, when it got cold, it was harder to start your cars. Now, they start right up."
In the 1980s, new EPA regulations to protect soil from gasoline pollution became too expensive for the small shop. While it was the longest running Pure Oil (which became Union 76) station in the country, there was a lot of concern about contaminated soil, so the pumps and tanks were removed, and the shop focused solely on vehicle engine repair.
"I always liked the mechanic part. Working on cars is more fun than working on business books," said Bob.
The repair shop has also seen other changes. There have been many new customers during the last few years, with new people moving to Richfield. "Five years ago, I could put a name on every face that came in. Now, that has changed. And we used to work mostly on American made cars. Now, there are mostly Asian cars."
Bob's son Brian, the fifth generation to work at the family business, is now preparing to find a new job as an auto technician. "I've been doing this since I was 19 years old," Brian said. "I've got options but I'm a little sad. I've been able to work with my family for 25 years. This will be a big change. It's a bummer to see a family name that has been around for 130 years go away."
Two days before closing, a handwritten sign taped up near the cash register said it all: "Closing Forever on April 14th."
The shop is now closed. The family sold all their equipment at auction. Workers there, including Brian Elsen, have already found work at other shops. Plans are that the building, along with several others nearby, will be demolished. According to the Minnesota Department of Transportation, the timing for the building removal has not been finalized but will likely happen sometime during the 2023 construction season. Work on the Portland Avenue bridge will take place in 2025.