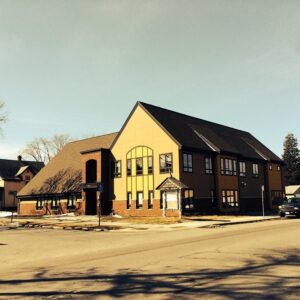 BY DEBRA KEEFER RAMAGE
Walker Community United Methodist Church has always done things differently. For much of the last 50 years, Walker Church has incubated dozens of radical, secular projects. And some of the renter organizations were not what you would expect in a small-to-medium neighborhood church. In the Heart of the Beast Puppet and Mask Theatre and KFAI "Fresh Air" radio (back then one of the few independent listener-supported stations) were two organizations among many that were founded in a tiny basement office or attic studio of the "Old Walker." Some of the organizations didn't last forever, though: the south Minneapolis chapter of the Black Panthers, draft counseling during the Vietnam War, a celebrated and fondly remembered lesbian theater troupe. There was a left-leaning coalition of four south Minneapolis Methodist churches in the 1980s and early 1990s. Walker is the only one of the four still standing.
So no one should be all that surprised at what Walker Church is doing next. We are giving our church building – the "New Walker," lovingly designed and financed by the 2012-13 congregation and valued at around $4 million – to another, younger church. These things happen, but it's usually after the congregation has ceased to exist, or at least to function. Churches across the country are dying at the rate of several a week, and sometimes these buildings are given to a newer, healthier one. (See this article from The Atlantic: theatlantic.com/ideas/archive/2018/11/what-should-america-do-its-empty-church-buildings/576592.) But Walker is neither dead nor dying. Despite declining numbers, we are maintaining a part-time pastor, having regular weekly hybrid celebrations, giving away tons of healthy food every week, and even occasionally welcoming new – and young – members. But I should back up a bit to tell the whole story. Or at least, the story since 2020.
The pandemic of 2020 and the George Floyd uprising may have been very traumatic for Walker Church, as for many churches, but it was not our first rodeo. I have been associated with Walker Church since 1985, and in that time, it has had more trauma than a single group of people deserves to have. Among the catastrophic events buffeting our church were the deaths in office, in their early 50s, of two beloved pastors, in 1989 and again in 2005. And then there was the fire. On the eve of Memorial Day in 2012, the "Old Walker" at age 102 was struck by lightning and burned down to 10 feet below ground, destroying everything but a chest of worship items, the cornerstone and a few bricks and, miraculously, a nylon rainbow flag left dangling from the ruins of the northeast tower.
After intense mourning and agonizing debate, the congregation chose to rebuild on the same site. That was how we got the "New Walker," which debuted in December of 2013. A big item on Pastor Walter Lockhart's wish list was a commercial-grade kitchen to use in hosting a weekly free meal for the community, and we got that, along with a fireplace built of bricks from the old church, and a concert-quality acoustic design for the sanctuary. It looks more like a theater than a church, and that was completely intended.
There were six good years with Pastor Walter until his retirement, with a full upstairs dining room every Tuesday night for free food and groceries. The mostly leftist organizations that had been tenants at Walker before the fire had moved into 4200 Cedar, which had just opened around that time, but new Walker tenants came in, the usual mix of radical caring, recovery, youth programs and food sharing. Pastor Walter retired in 2019, and was replaced by the young Rev. Katy Lee, who sadly had to leave some time after the pandemic due to illness. Walker persevered without a pastor until finally Rev. David Wheeler (retired) was appointed as interim pastor. (On July 1 he will begin as our regular part-time pastor on year-to-year assignments.)
Meanwhile, backing up again, another transformational thing occurred in 2017 when "church planter" Rev. Tyler Sit debuted the young and activist New City Church to a packed house in Walker's dining hall. (See minnesotaumc.org/blogdetail/new-city-church-launches-with-a-packed-house-10107541.) As Walker, with more than half of its members over 55, gently declined in numbers, New City rapidly grew. When the uprising began, Walker Church, the building, became a sanctuary for embattled community activists, including young, queer and trans people, as well as those just seeking shelter from the political storm, and the poor who still needed to find food and medical care. (All of which sprang up from somewhere and were available at Walker Church.) Having New City in the building probably served to make it a bit more welcoming than just a bunch of old white homeowners, no matter how radical they used to be.
Walker's problem to be solved in 2022 was almost purely financial. We had rental income, we had almost no debt. But our giving base was declining as members passed away or went into long-term care or moved out of the area. New members came in but not fast enough. Instead of leaking money to the point of no return, the Walker congregation embarked on the Faithful Path, a program to discern the way forward. And that turned out to be giving our beloved building to New City Church but remaining there as a tenant. To add an extra layer of resilience, a new nonprofit was founded, the Grapevine Collective, with a board composed of representatives from Walker, New City, and community stakeholders. (See grapevinecollective.org/community for a list of the current tenants of the building, which forms the collective.)
When the actual transfer of title occurs on July 1 of this year, the property will be transferred free of any debt. Walker Church will once again be a tenant, like in our wilderness years of 2012-13, but in a now-familiar setting. And New City, which was recently made a full-fledged UMC congregation, will be the church-owning rising star of the Methodist Conference. On July 16, Walker, New City, and Pastor Tyler's other church, Northeast United Methodist will have a combined Sunday celebration in the sanctuary. This will be followed by a huge community celebration, at which the building will be bestowed with a completely new name, in honor of its new status as an actual community center, which just happens to have two awesome churches in it. (I think it's what the New Walker has wanted to be all along.) You're all invited.