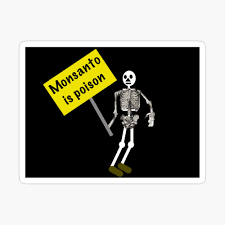 BY JOHNNY HAZARD
Early in Andrés Manuel López Obrador's term as president, then-secretary of the environment Víctor Toledo worked on an ambitious agenda to prohibit the pesticide glyphosate (Roundup) and genetically-modified corn. This article will focus on the first of the two substances. Months earlier, López Obrador (AMLO) participated as president-elect in the negotiations to rewrite the North American Free Trade Agreement. His team was unsuccessful, however, in removing or modifying the provision that allows one country (usually the U.S.) to veto internal decisions of the other countries.
The presidential decree to ban this substance was issued on Dec. 31, 2020, and was set to take effect earlier this year and has now been postponed to March of 2024. But the U.S. has requested "formal trade consultations," denying the obvious negative ecological effects of glyphosate, including damage to the reproductive process of bees. Canada soon jumped on the northern imperial bandwagon and manufacturer Monsanto sought and won an injunction in a Mexican court in July of 2022 to keep the measure from taking effect and is now appealing to Mexico's Supreme Court to intervene after the government won a round reversing the injunction. This article in The Guardian reveals how Monsanto and its parent company, Bayer AG, have colluded with the U.S. government to oppose glyphosate bans in Mexico and, in 2019, in Thailand. https://www.theguardian.com/business/2021/feb/16/revealed-monsanto-mexico-us-glyphosate-ban
Thailand's government caved in to U.S. pressure. More than 80 U.S. organizations, including the Institute for Agriculture and Trade Policy (IATP), the Center for Biological Diversity, National Family Farm Coalition, and the Rural Coalition, are siding with the Mexican position against the imposition of pesticide poisoning.
Glyphosate is banned or restricted in the U.S. cities of Los Angeles, Seattle, Miami, Baltimore, Austin and Portland, and in several countries, including Austria, Germany, Vietnam, Saudi Arabia and about 10 more. Monsanto's patent expired in 2000 and various other companies also manufacture the product now.