BY DEBRA KEEFER RAMAGE
We only have one closing to note – Foxy Falafel in St. Anthony Park. D's Banh Mi really is open now, if by open you mean it's possible to get food from them in some way. See the review below for more detail on the long, drawn-out opening. Sahan Journal reports on the opening of the new Tooth Fairy Candy Store on Selby Avenue in the old Rondo neighborhood of St. Paul. Owned by Aretta-Rie Johnson, the store has a side mission to motivate Black kids toward entrepreneurial goals.
In Seward, the worker-owned co-op Seward Cafe (turning 50 next year!) has been open a couple of months with just coffee house fare and hours, but has begun serving brunch on selected weekends. Keep an eye on Instagram for weekend menu updates, which thus far have featured old favorites from the pre-pandemic days such as their trademark Earth Breakfast and Righteous Pancakes.
Marigold, the alcohol-free bottle shop in South Minneapolis, is now
opening a second location In St. Anthony Park. On Eat Street (Nicollet Avenue between downtown and 28th Street), Rainbow Chinese has reopened its dining room for the first time since the pandemic closures. In the old Eat Street Social space, Luna & The Bear is open. This is a new dog-themed restaurant with menu highlights like fried oysters, Italian beef sandwiches, catfish po' boys, and various fancy burgers.
In other food-related news, Eater Twin Cities has updated its "best places for breakfast" list to remove closed ones and add new ones, or just newly discovered ones. (Go to twincities.eater.com/maps and scroll down.) May Day Cafe is back on the list, and Laune Bread on Lake Street and Justin Sutherland's Big E (an egg sandwich cafe on Grand Avenue in St. Paul) have been added.
Eater.com also reports that Atlanta, Georgia, now has a Michelin Guide. And in a July 12 article entitled "A Modest Sandwich Plea," three Eater writers opined that "sandwiches are too damned big!" They were moved to protest because Burger King in Thailand introduced a monstrosity of a
sandwich comprising a burger bun piled with 20 slices of American cheese. The article is packed with science, persuasion and factoids, like the fact that the average adult human can only open their mouth two inches. ("Average" means some are able to accomplish quite a lot less.)
Racket.com and several other local media outlets reported on the list of upcoming State Fair foods. Racket's approach was to have one eye on its August duty to be "the only new Fair food reviews you can trust," and try to predict what they would consider winners and losers. Some of the things to look forward to if you "do" the State Fair (I don't any more, after being sent home from it with heat exhaustion in 2015) include a chicken momo with tomato chutney from Momo Dosa, a crispy lutefisk steamed bun from Shanghai Henry, La Michoacana Rose's paletas at the Hamline Church Dining Hall, Irish butter ice cream on cinnamon toast from Blue Moon Dine-in Theater, walleye fritter pops from Giggle's Campfire Grill, and my personal favorite, a fried green tomato sandwich from the Minnesota Farmers Union Coffee Shop.
For my first mini-review, I recently ventured into Instagram DM territory to order a mock duck banh mi from D's Banh Mi, which was open but not for walk-up or pick-up. This surprisingly worked out fine. I also ordered a pair of vegetarian spring rolls (tofu cubes, rice thread noodles, and green stuff, with a very tasty sauce.) I agree with the other food reviews I've read which declared that 1. it was worth the wait; 2. it was possibly the most expensive banh mi in town; and 3. it was really worth that, too, because it was enormous. I got two and a half meals out of my order. The menu can be directly accessed at bit.ly/3NZCUYh, and if you don't use Instagram, you can email your order instead to [email protected]. They deliver to ZIP codes 55406, 55407, 55409, 55417 and 55419.
My second mini-review is Boludo El 38, one of several locations of Argentinian pizza and empanada restaurants owned by chef Facundo DeFraia. My friend and I ate outside, because the seating area inside is small and not especially inviting. I got the Margarita pizza and a San Pellegrino Aranciata. We split an order of churros with dulce de leche. I brought home almost half my pizza and most of the churros. The pizzas are delightful. The crust is thin and crispy, the toppings are subtle and a bit sweet, and it's finished off with a dry cheese so finely grated it's like fluff.
I was going to compare and rate Brazilian pizza from Ouro at Eat Street Crossing with Argentinian pizza, but it's too apples-and-oranges. I liked Ouro's golden, thicker crust a tad more than Boludo's thin and classic one, but only a tad. I liked both the toppings too, but for Boludo, I tried the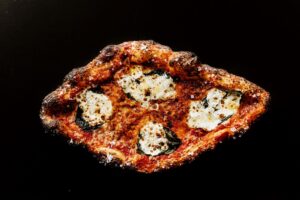 plainest type on the menu, while at Ouro I had a Cinco de Mayo special suggestive of elote. More research is required.