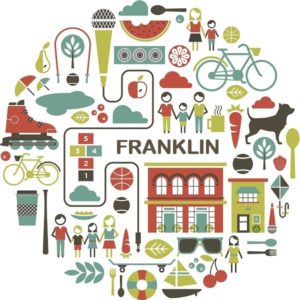 BY DEBRA KEEFER RAMAGE
This year Franklin Avenue's Open Streets celebration will be on Aug. 27, at the usual times: 11 a.m. to 5 p.m. The boundaries of the Franklin Avenue festival are Portland Avenue in the west and 32nd Avenue in the east (four blocks longer than last year).
The idea for Open Streets came from a young Colombian radical, trained in the U.S. during the '60s, who went home to fight the growing tide of excessive motorized traffic and unlivable urban areas. In Bogota, the country's capital, for the past 40+ years, the streets are closed to motorized vehicles every Sunday and holiday for seven hours. Now the idea has spread throughout Central America, Mexico and the U.S. In Spanish, the event is called Cyclovía (cycleway).
Here in Minneapolis, Open Streets consists of eight separate events throughout the summer on different Sundays. Open Streets in all of its locations is in growth mode, getting bigger and better every year. Before we start with the tantalizing specifics, let us remind you that you can download a free Metro Transit day pass for the day of Open Streets at http://www.openstreetsmpls.org/franklin.
Also, just a little plug for volunteers. The volunteer event for preparation (door hangers, posters, etc.) with free snacks provided by Pizza Luce has happened already. But there are still loads of openings to volunteer on the day of the event. There are 11 possible volunteer roles: Movers Not Shakers (load and unload trucks), Setup Crew, Breakdown Crew, Event Hosts (roam the route in teams, keeping things fun and safe), Info Booth Reps, Kid Zone, Planeteers (roam the route picking up waste and cleaning up mess), Recyclers, Bikeway Pop-up (managing it), Franklin Walk Pop-up (ditto), and Roving Photographers. You get a free T-shirt, besides the fun and recognition. You can sign up online at http://www.openstreetsmpls.org/volunteer_franklin. On a related note, here's a late-breaking volunteer opportunity of sorts. If you support Aswar Rahman for mayor, or just want to get to know him better, he is doing his own thing at Franklin Open Streets, wandering around with a "crew" and handing out free water. If you want to join his crew (just for the day, no obligation!) sign up here https://www.eventbrite.com/e/open-streets-franklin-w-aswar-tickets-36328548667.
On the western edge of the route is where Hope Community will be set up. They are celebrating their 40th Anniversary this year by inaugurating a massive soundstage for Open Streets, called the HOPE 'N" Streets Stage, featuring live music of the likes of Tall Paul, Lydia Liza and Wilkinson James. That could be a good place to either begin or end your stroll if you are going to walk or cycle or skate the entire route. Or if you're picking and choosing, choose this site if you like open air music festivals. Another group advertising its presence near the western end of the route is MOFAS—the MN Organization for Fetal Alcohol Syndrome.
Like last year, Native American Community Development Institute (NACDI) will be hosting a huge subsection of the route called the Native American Cultural Corridor, which stretches from 12th Avenue to the Hiawatha Avenue underpass. Last year featured Homeland: Native Artists Create on the Ave, co-sponsored by All My Relations Gallery, Sean Sherman's Sioux Chef food truck, and Kalpulli Yaocenoxtli Aztec dancers, among many other spectacular offerings. Expect food, garden produce for sale at the pop-up farmers market, crafts, music, dance and spoken word. It's massive, and nothing is announced ahead of time, so you just have to go and see it. This might be another spot to concentrate on if you can't quite do the whole route. Be sure and stop by Pow Wow Grounds Coffee for some refreshment in the very heart of the Native American Cultural Corridor.
As you cross Cedar Avenue, you enter the Seward neighborhood part of the route. Seward Civic and Commerce Association (SCCA), is only one of the many Seward-based community organizations involved, again like last year but even bigger and better. They are organizing small East-African- owned businesses to participate en masse. Somali, Ethiopian and other delicious African foods and culture will be there for sampling. Seward Redesign and Seward Neighborhood Group will be participating, but we were not able to get specifics.
A big draw for Open Streets is street food, of course. There are always food trucks. One we know will be there is PhillyJax Grill, which sells the famous cheese-steak sandwiches in traditional steak, or chicken or veggies. Of course, there are the co-ops. Hub Bike Co-op has been integrally involved in Open Streets since its beginning and always has something interesting, whether it's a fix-it clinic or a bike rodeo. Seward Co-op (food co-op), both at its original location near the eastern end of the route and its Co-op Creamery Cafe right in the thick of things, will be selling delicious things to eat and drink. And Seward Cafe, a 44-year-old workers' cooperative cafe will also be along the route and probably out in the street. Cold press coffee? They were purveying it 30 years before it became trendy!
The Seward half of the route includes some really fun organizations that participated last year and presumably will do so this year too. These include eateries such as Soberfish, Tracy's Saloon, and Encore Sushi and Karaoke, art and education organization Articulture, and non-profit groups Save the Boundary Waters, the Somali Cultural Museum and Cycles for Change. In the Zipp's Liquor parking lot, Surly Brewing is hosting a beer garden, where you can linger and sip and people-watch. A couple of really noteworthy businesses in the Seward part of Franklin have announced their intention to participate this year as in past years. One is Welna II, the smaller boutique part of the venerable hardware chain (of two). Welna II is my favorite hardware store in the world. Expect plants, paints and other bright and shiny things out on the avenue. The other is one of my three favorite bookstores in the Twin Cities, and possibly one of yours, too. If not, if you are not familiar with them, get to know Boneshaker Books (whose offering at last year's Open Streets was a dunk tank)! Not only do they have a stellar inventory of books, not only do they offer free meeting space to community groups, not only do they support incarcerated women with books given to women's prisons, but if you special-order a book, you can optionally have it delivered—by bicycle. So of course they are going to be part of this celebration of street life, cycling and other human-powered, sustainable means of travel.
Open Streets across the nation
Portland, Maine: "Sundays on the Boulevard"
Baxter Boulevard, with one of the best views in Portland, is closed to cars on Sundays, May through September. boulevardsundays.com
New York City: "Summer Streets"
On three consecutive Saturdays in August seven miles of roadway from the Brooklyn Bridge to Central Park are turned over to pedestrians and bicyclists. nyc.gov/summerstreets
Fargo, North Dakota: "Streets Alive!"
Open Street Festivals in Downtown Fargo are held twice a year to plant the idea that biking to work or play is normal and exhilarating. Next event is Sunday, Aug. 27. fargomoorehead.org/event/streets-alive/
Madison, Wisconsin: "Ride the Drive"
Madison's commitment to a healthy, active lifestyle is reflected in its annual celebration on John Nolen Drive, with stops at three downtown area parks. cityofmadison.com/parks/ridethe drive
San Antonio, Texas: "Siclovia"
Organized by the city's YMCA, Siclovia turns major streets into a safe place for people to exercise and play. The next event is Oct. 27. ciclovia.org
New Brunswick, New Jersey: "Ciclovia"
Held three to four times annually, Ciclovia is a citywide initiative that closes the streets to cars and opens them to people to bike, walk, run, skate and enjoy events along the route. newbrunswickciclovia.com
Portland, Oregon: "Sunday Parkways"
Portland organizes five events yearly that create different car-free routes to connect neighborhoods and their parks. portlandsundayparkways.org
Pittsburgh, Pennsylvania: "Open Streets PGH"
Three times a year you can practice yoga, learn to salsa or check out the arts and crafts tables at Pittsburgh's Open Streets. openstreetspgh.org
Atlanta Georgia: "Atlanta Streets Alive"
Atlanta Streets Alive is an initiative of the Atlanta Bicycle Coalition. There are three dates, three routes and nine miles of Open Streets! atlantastreetsalive.com