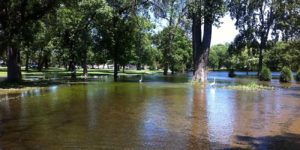 BY ED FELIEN
A report from the Hiawatha Golf Course Property Master Plan Citizen's Advisory Committee (CAC) meeting at Park Board Headquarters
A friend who was there told me: "I think it was an excellent meeting. Did you notice that most of the CAC questions came from women? These are ferocious women protecting their homes and families. In MN Nice style. Loved it!
"Pointing out that the golf course may be a needed floodplain is a point that may save the golf course. I don't know enough science to evaluate this, but from the little I know, it makes sense!
"This would make the primary land use floodplain—and coincidently, the land also supports use as golf for 16 years out of 17 years on the average. Also wildlife habitat, cross-country skiing, etc. Would be nice to know actual MPRB costs to repair golf course from flooding during last few flooding events. (And NOT what the MPRB needs from deferred maintenance from robbing golf dollars for other needs.)
"The question about what will serve as floodplain if the current floodplain is converted to water was brilliant!
"The MPRB planners were both hired under Supt. Miller and she was gung-ho on the monetization of parks. Can't blame her too much because she walked into a broke system. But she also had a vision of parks as urban resorts where families would go for a day, dropping kids off for kids activities while elders pursued their own, then regathering at the restaurant. It was her vision for Wirth.
"And her key staff responded, and still do, by monetizing everything they could!
"So MPRB Planning came up with a golf course plan that consists of a restaurant and banquet hall in the clubhouse, two large and one larger for-rent covered picnic shelters, an outdoor 'event' space and a new, expanded pay parking lot. And canoe racks. To please the neighbors, they agreed to the fruit forest and a back trail around Hiawatha.
"The underlying reason for this is because capital expenses in regional parks are largely free to those governments willing to wait their turn. The money comes from state bonds either through Met Council regional parks or as a direct grant thanks to lobbyists. The restaurant (enterprise) wouldn't be covered (so make it a counter-style restaurant and call the food court a gathering place; then the dining area would be eligible. The banquet facility would be eligible if it were a multi-purpose room).
"In contrast, the MPRB needs $30+ million for golf course deferred maintenance, and the only source of funds is MPRB Enterprise Fund, currently a bust, or the taxpayers. Currently, MPRB doesn't have the money to invest in golf courses. But they can reduce the $30+ million needed by reducing the number of golf courses.
"Preliminary income of Enterprise Fund for FY 2017 is ($639,515). Unaudited. They really don't have any money right now."
Another friend said about the enterprise fund and deferred maintenance, "These golf courses continue to survive and generate revenue despite having little investment in them over the years; instead, their revenue has been taken by the Park Board for other initiatives."