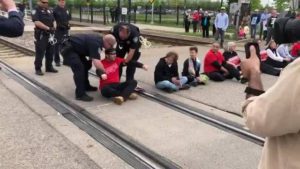 BY DEBRA KEEFER RAMAGE
The month of May was not very merry but there was a lot of radical stuff. On May 2 through 4, Mutual Aid Disaster Relief came through town on its disaster relief training tour. The Northland Health Collective helped pre-arrange the venues for the workshops. There was a short version, presented twice, once in South Minneapolis and the next evening in North Minneapolis. Then on the Friday they wrapped up with an in-depth, hands-on training. Your correspondent attended the South Minneapolis short presentation and found it amazing and enlightening. The presentation was called Protectors vs. Profiteers, and it showed how "disaster capitalism" and the shock doctrine are used to exploit the vulnerable in times of natural or unnatural disaster. This was accompanied by the stunning agitprop artwork of the Beehive Collective.
All this was just two days prior to the 44th annual MayDay Celebration. All the groups you have read about in this column were there, either with a marching contingent, or information table, or both. I was especially proud to see Twin Cities Democratic Socialists (TC DSA) go by in the smashing red rose crowns made by some of the craftier members. I was hosting a rare visit from my daughter for MayDay so I wasn't working on the info tables or anything, just walking around soaking up the vibe. My only regret is that I couldn't hack the long lines, but I had so been looking forward to vegan goodness from the Reverie Food Truck.
The next weekend was taken up (for me and a few comrades) attending the DFL Minneapolis City Convention at Patrick Henry High in North Minneapolis. The interesting thing that happened, in this case, was what is usually most uninteresting—the election of officers to the City Central Committee. The Nominations Committee had a slate of young new aspirants, many of them dating from the Berniecrat influx, and most of them won, unseating long-serving older, mostly whiter members. Of course, this convention was mostly about the School Board race, but that part was not very interesting. The two at-large candidates endorsed by MFT 59, the local teachers' union—Josh Pauly and Kimberly Caprini—were also endorsed by the DFL—ho hum. This meant the ritual sacrifice of Rebecca Gagnon, the only at-large incumbent running, who of course pledged to honor the endorsement and is now out of the running. One candidate who would not answer the "honor the endorsement" question got a single digit percentage of votes—again boringly predictable. The interesting part of this story is that it only emerged after the convention that Josh Pauly's history and current associations tie him rather securely to the neo-liberal education reform agenda.
In the words of Doug Mann, another candidate for the at-large School Board, who has never sought the DFL endorsement in his decades of running for both at-large and district seats:
"The endorsed candidates for at-large School Board are untested, their views related to the corporate school reform agenda unknown to all but a few … I suspect that most of the DFL delegates really have no idea what kind of leadership for the school district they endorsed … It happens that Josh Pauly is hot-wired to pro-charter public policy organizations, including MinnPost and the Center for Policy Design, which supports his PeopleSourcedPolicy organization … He is also director of Books on Wings, and the treasurer and board member of that organization …[is] a policy advisor to Democrats For Education Reform. This would not be the first time that all of the unions backed 'reform' candidates, knowingly or not, such as Chris Stewart in 2006 and Carla Bates in 2012 … and [when] Iris Altamirano teamed up with Don Samuels and billionaire backers in a failed attempt to kick the DFL-endorsed incumbent Rebecca Gagnon off the board in 2014."
Also in May, the Poor People's Campaign got active in Minnesota. The Poor People's Campaign is a nationwide movement modeled on the 1968 campaign of the same name that Rev. Dr. Martin Luther King Jr. was working on when he was assassinated. The current campaign is co-chaired nationally by Rev. William Barber (of Moral Mondays renown) and Dr. Liz Theoharis. The local organization has a Steering Committee (referred to in the volunteer form) and co-chairs, one of whom is Rev. DeWayne Davis, senior pastor at All God's Children MCC. The kickoff rally was May 14 at the Capitol, followed the next morning by a civil disobedience (CD) action at which a number of protesters were arrested. The campaign is planned for six weeks, following a mass rally at the Capitol on each Monday with a CD action the next day (except for Memorial Day week, when the mass rally was on Tuesday). The weekly themes were/are Pre-emption links to poverty; A just immigration policy (putting ICE on trial); A peace economy (connecting war, guns and militarism to poverty); Health/ecological justice (focusing on Line 3 pipeline); and Fight poverty, not poor people ($15 minimum wage). At the May 22 CD action, protesters blocked the blue line LRT at the Whipple Federal building stop for almost two hours. You can still participate: Sign up on the national campaign page: www.poorpeoplescampaign.org or check out the Facebook page of Minnesota Poor People's Campaign for events and links to volunteer forms.
Finally, in May, Twin Cities DSA, at their bi-monthly membership meeting, passed a resolution sponsored by the Socialist Feminist Branch and co-sponsored by the Labor and Economic Justice Branch, taking a strong stand against two recently passed laws called SESTA and FOSTA. SESTA is Stop Enabling Sex Traffickers Act and FOSTA is Fight Online Sex Trafficking Act. Under the slogan "Sex workers are workers; sex work is work," the two branches will be diving into the struggle of sex workers who are not trafficking victims but who have been hurt severely by the (perhaps unintended?) consequences of these laws, which passed with overwhelming bipartisan support. As local paper City Pages explained in an article of May 16, quoting Baylor professor Scott Cunningham,"If you care about violence against women—and you should—you absolutely need to care about how FOSTA is unambiguously harming these women." Cunningham's study of the impact of Craigslist as a medium for sex workers advertisements, the only such study ever done, showed that the switch to internet-based marketing of sexual services reduced female homicides by over 17%. Working with local sex workers group SWOP, the Socialist Feminists participated in actions over the weekend of June 1-2, including a Let Us Survive March with street theater, setting off at noon from Smitten KItten on Lyndale Avenue. The Socialist Feminist Branch has been super-busy this month. Following on the heels of the success of the earlier People's Prom, on May 9 they held a fun-raiser (that's a party to raise funds) at East Side Freedom Library in aid of incarcerated mothers, that featured an auction of members' craft items and a non-alcoholic cocktail bar. It raised over $1,000 plus book donations for women in prison.
A lot of other stuff is happening with Twin Cities DSA. DSA is holding a regional training here in Minneapolis which will see 45 organizers from chapters in Minnesota, Iowa, Wisconsin and the Dakotas meeting here to learn new skills and share ideas and stories. Three new potential branches or working groups are holding initial meetings—religious socialists, racial justice and anti-imperialist/anti-war. And the next stage in the Health Justice for All canvassing will kick off as you see below. TC DSA is interested in getting all of our health justice printed material translated into the most prevalent non-English languages. We got some Spanish versions recently from the national office, but would love to have Somali and Hmong versions too. So if you can do such translations, including Spanish or other languages, or know someone who can, please get in touch at [email protected].
Already into June, the MN Poor People's Campaign on June 4 focused on Direct Action at Leif Erikson statue on Capitol Grounds. Rally with songs and speakers, opposing Line 3 pipeline, then a ¾ mile march to the PUC for a prayer vigil.
Upcoming events in June:
• MN Poor People's Campaign – Fight Poverty, Not the Poor. Monday, June 11, 2 p.m. at the State Capitol. Boosting the struggle for $15 in Saint Paul. Partner groups: 15Now, Hmong Americans for Justice, CTUL, Our Minnesota Future, Restaurant Opportunities Center.
• It All Adds Up. The compounding cost of gender inequality. Tuesday, June 12, 6 p.m., The Coven, 30 N. 1st St., Minneapolis. Title X rollbacks, attacks on the ACA birth control mandate, denial of health care coverage for transgender people, and attempts to pass forced ultrasound legislation … and it's all adding up. Join us as we tell our stories, discuss the overlap between today's gender issues and explore ways to push back and make progress. As part of the Keep Birth Control Copay-Free Minnesota campaign, this event works to protect copay free birth control. Presented by a coalition of four gender justice groups.
• TC DSA Medicare for All / Health Justice Now canvass. Saturday, June 16, 10 a.m. (tentative) somewhere in NE Minneapolis. (Check Facebook for event announcement.) You do not need prior training nor DSA membership to participate.
• Summer Book Club at East Side Freedom Library. First meeting of three, Wednesday, June 20, 5:30 p.m., ESFL, 1105 Greenbrier St., Saint Paul. Focused on the history of the labor movement, especially the role of women and People of Color in its history, and how this history connects to labor struggles and uprisings around the country today. Co-sponsored by SPFT and MAPE.