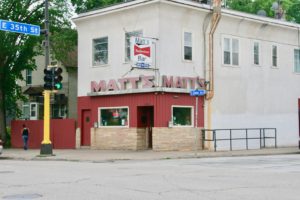 BY STEPHANIE FOX
From Minnehaha Parkway all the way to the West Bank, Cedar Avenue offers a number of great places to eat and drink. You can elect plain old burgers, pizza and pasta or the more exotic foods of the Twin Cities' culinary tapestry. There are places for wetting your whistle, as well. Some places have been around for decades and others are brand new. So check out the newest places or revisit the place you remember from years back. This summertime, cruise down Cedar Avenue for a food- and drink-related test drive.
Grand Ole Creamery
4737 Cedar Ave. S.
If you like things creamy and sweet, stop by Grand Ole Creamery where ice cream rules. While the Creamery's sister restaurant in St. Paul serves meals, here, the entire focus is on the ice cream. If you are craving large, velvety scoops of ice cream or some delicious ice cream specialties, this is the place to be.
The big draw here is the nearly two dozen flavors of ice cream. So, if you don't find chocolate chip exciting enough, you can wrap your tongue around North Country Crunch or order a serving of Cookie Monster ice cream. For something on the lighter side, try a sorbet—Raspberry Piña Colada is a big seller. If you'd like, you can take a pint (or more) home. There is little indoor seating, but the patio is shaded and comfortable.
Open from noon until 10 p.m. weekdays; 11 a.m. to 10 p.m. Saturday and Sunday.
ie (Italian Eatery)
4742 Cedar Ave. S.
You can find this new restaurant, opened in 2015, by looking for its large but understated and stylish sign. The owners of "ie" (aka the Italian Eatery), husband and wife Eric and Vanessa Carrara, bought the location and then took six months to refashion the interior, adding more than a touch of elegance. Eric, once the general manager of Zelo, brings his expertise to sophisticated versions of Italian classics. Saturday and Sunday brunches include calamari bruschetta, polenta pancakes, focaccia benedict and a modern Italian version of bagel and lox.
Still, it's got a neighborhood feel, drawing residents of both Nokomis neighborhoods (East and West) as well as folks from all around South Minneapolis.
The modern Italian specialties are suitable for special occasions, but prices are moderate, so a lot of people are becoming regulars. Prices for pastas run from $9 to $19, entrees at $19 to $24 and shared plates from $9 to $16. Open Monday through Thursday 4 p.m. until 11 p.m.; Friday and Saturday 4 p.m. until midnight. Also open for Saturday and Sunday brunch 10 a.m. until 2 p.m.
Carbone's Pizza & Pub
4705 Cedar Ave. S.
If you are looking for the perfect old-school neighborhood pizza parlor, you've found it in Carbone's Pizzeria. Carbone's began in 1913, opened by immigrants Alfonso and Antionette Carbone as an Italian grocery in St. Paul, then operating as a confection shop (a saloon) during Prohibition. Now, the restaurant has expanded to 39 franchise locations all over the Twin Cities, as well as in Wisconsin and Montana. This Minneapolis location moved on to Cedar Avenue in 1986 and then, three years ago, moved across the street. Since 1986, Carbone's had been located where Italian Eatery now stands. When ie moved in, Carbone's moved from their old Cedar Avenue location into where the recently vacated former Coldwell Banker Burnet real estate South Minneapolis office was once located.
The new roomy digs are even more popular than was the old location. In the winter the restaurant is crowded beginning at happy hour. In the summer, patrons move out to the patio (dogs welcome) to eat specialty pizzas, white cheddar cheese curds, wings, waffle fries, burgers, pastas, salads and sandwiches. Gluten free and vegetarian options are available. There's no hard liquor, but you can order beer and wine from an extensive list.
Open 10 a.m. until 11 p.m.
Matt's Bar,
3500 Cedar Ave. S.
Since 1954, Matt's has been the neighborhood place for beer and burgers. What brought them national attention is their famous Jucy Lucy—two burgers grilled with a center of molten cheese. Some call the Jucy Lucy the national dish of the Twin Cities. At Matt's, the motto is "Fear the Cheese!" So, be careful when you bite because the melted cheese hidden inside the two beef patties is very hot.
Matt's is busy both at lunch and dinner, with people lining up for a table. For those with a late night craving, Matt's is open until midnight. The place has a national following, after appearing on the Travel Channel shows "Man vs. Food" and "Food Wars."
The Jucy Lucy costs an affordable $7.50. Other burgers and sandwiches are also on the menu. They serve soft drinks and a choice of a dozen tap beers, fancy and otherwise, as well as 10 craft bottle beers and eight regular domestics. They also serve house wines, both red and white. It's generally a cash-only place, but they have an ATM inside the restaurant and they do take checks. Oh, in 2014, then-President Barack Obama visited, scarfing down a Jucy Lucy stuffed with (or course) American cheese.
Open for food 11 a.m. until 10:45 p.m. (11:45 on Fridays and Saturdays). Drinks served until closing at midnight every day.
Lucy's Market
3749 Cedar Ave. S.
Aster Andualem opened Lucy's Market and Carryout last July, a welcome addition to the neighborhood where there are an increasing number of fans of the flavorful dishes from Andualem's home country of Ethiopia. Her restaurant, she said, is named after the 3.18-million-year-old hominid fossil—the oldest evidence of the earliest ancestor of all humans—whose nickname is Lucy.
There are only six tables at Lucy's—actually seven if you count the picnic table located on the sidewalk outside the front door, so most of the orders are for take-out. The shelves of the market feature a small selection of spices, legumes and other African specialty items. A greater selection is coming in the future, Andualem promises, so right now the real focus is on the prepared food.
With Ethiopian food, stews, called wots, are popular, flavored with butter, ginger, garlic and sometimes with bright spicy peppers. A nearly addictive spice mixture called berberie and a mild spice mixture called mekelesha, made of cardamom, cinnamon, black pepper, cumin and more, are central flavors. Many of the dishes are Minnesota-mild, but not all. Side dishes include flavorful vegetables dishes, like spiced greens, cabbage, potatoes and green salads. Lucy's also offers choices for vegetarians and vegans. If you're new to this cuisine, just ask either of the Andualem sisters, Aster or Tesest, who will be happy to help you navigate.
Open 11 a.m. until 8:30 p.m.
Palmer's (under new ownership)
500 Cedar Ave. S
One of the West Bank's original dive bars, Palmer's is known for strong drinks and funky music. It has a more than a 100-year history, first opening its doors in 1906. Rumors say that there was a secret underground tunnel during Prohibition. In 2014, Esquire Magazine included Palmer's as one of the 'Best Bars in America™. Reporter David Wondrich wrote, "The drinks are cheap (make sure to get a beer back with your shots, which are poured double), and the garden pleasant, at least in those three months of the year when you can stand to be outdoors in central Minnesota." (That would be all of us.)
This spring the bar changed hands, from owner Lisa Hammer to Tony Zaccardi, a bartender and musician. Zaccardi was the perfect match for Palmer's, well known around the local music scene. Palmer's small stage features some of the best bands and solo musical acts around. Palmer's has a long gleaming wooden bar where it's fun to people watch. The crowd ncompasses friendly folks of all stripes from counter culture types to pusiness people and everything in between.
Open 10 am until 2 am
Dilla's
1813 Riverside Ave.
A quick walk around the corner from Cedar to Riverside Avenue will bring you to one of Minneapolis' favorite Ethiopian restaurants. Dilla's is named after a market town near the Red Sea where the restaurant's founder, Beko Tufa, and her son the manager, Wagari Hirp Hunda, lived before immigrating to Minnesota.
The cozy little restaurant has a full bar and a sunny seating section with booths. It caters to college students, food lovers and the local African community, pleasing all of them. You can order from the extensive menu of traditional Ethiopian food, which is served on spongy sourdough pancake-like bread called injera. There are no utensils needed. Just grab a small piece of injera and use it to scoop the savory stews. Good news! The injera is made with a grain (technically a grass, as is wild rice) called teff and is gluten free. While you can order your own plate, it's more fun to order family style, with choices shared. In addition to the traditional "wots," there are also cutlets, spaghetti, sandwiches and salads.
There is no pork on the menu, but chicken, lamb, beef and fish yes. There are choices for vegetarians and vegans too.
Open 11 a.m. until 2 a.m.
PHOTO CAPTION: Matt's Bar is an iconic neighborhood fixture, home of the Jucy Lucy