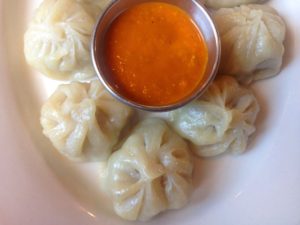 BY DEBRA KEEFER RAMAGE
Himalayan Restaurant
2910 E. Lake St., Mpls. 55406
612-332-0880
www.himalayanmomo.com
Himalayan Restaurant—Nepalese, Tibetan, and Indian cuisine—has been in South Minneapolis for about 10 years. It started out in the Seward neighborhood and after about six years, at the end of 2014, moved to its present location on Lake Street in the Longfellow neighborhood, seeking a larger space to cater to its growing fan base. The owners are brothers Naveen and Pravin Shrestha and the executive chef is Neelima Shrestha. The brothers have also recently opened a coffee shop in Saint Paul on Grand Avenue called Himalayan Java St. Paul, which has a coffee shop menu—sandwiches and pastries—plus coffee grown in Nepal and Nepalese tea. (Himalayan Java is actually a global franchise that started some years ago in Nepal and is now an international brand but available in just a few cities in the U.S. But never mind, we did not visit there, we only visited the Himalayan on Lake Street.) Socially, Himalayan Restaurant is very active. The owners are prominent in the Longfellow Business Association, and hosted a huge fundraiser for Nepalese victims when there was an earthquake there in 2015. They also promote Nepalese and other Himalayan cultural events in the community and participate in other charitable events.
I did a "Ladies Who Lunch" thing by asking three neighbors from my senior condominium to Himalayan for lunch. Even though many of my friends had already been there, some multiple times, none of us four ever had, so it was an exploration. Quite appropriate for a place that's named for the major feature of its "home" country, Nepal, which is also a magnet for explorers of a particularly daft kind, i.e. extreme mountaineers. None of us are mountaineers, though, and the scariest things we could expect to encounter there were chili peppers or maybe goat curry. One thing that wouldn't be scary was the bill, because the prices at Himalayan are quite reasonable, and until 2 p.m. there is a very generous buffet, with appetizers, raita, salads and desserts, as well as both plain and fancy fried basmati rice, naan bread, two meat and three or four vegetable entrees, and daal.
We all four opted for the buffet, and sure enough, one of the meat entrees was goat curry. All three of my companions had some, ranging from just a taste to a proper serving. It was pronounced delicious, tender, moist, not too spicy and "less gamey than I expected." Goat is not game, but I suppose we expect it to taste that way either because to us Anglo-Americans it's considered "exotic," or because goats have this reputation for eating garbage. But of course domesticated goats on American farms will probably get roughly the same diet as cows and sheep, so … Anyway, the goat curry is good. The other meat entree was chicken thighs, and these were tasty enough, but had no noticeable south Asian spice at all. Perhaps they were there to be the safe, "Western" food choice. I tried a number of salad-appetizer items, and encountered only one thing that was quite hot (in taste—it was a cold side dish), which seemed to be shredded cabbage or maybe radishes with a fiery, mustard-y sauce. I also had a raw sliced radish, like a daikon in appearance, but with a sweet, mild taste, almost as if you crossed a radish with an apple. (I know that botanically that's not possible, I am just describing the taste) and I had pyaazi (onion crisps) and raita (yogurt with herbs.) The main dishes I tried—a mildly flavored potato and eggplant curry, and a mixed vegetable curry that was predominantly broccoli, sweet potato pakoras, and the fancy fried rice—were all delicious. I meant to get kheer, the runny, lovely, almost addictively tasty rice pudding, but I forgot to go back. I also had a mango lassi (one of the best I've had) so that was sort of a dessert right there.
Himalayan is primarily about Nepalese cooking, although India, Pakistan and Tibet all have territory in the eponymous mountain range. Nepalese cooking seems to be at least 75% like Indian cooking, which is not surprising because it's a predominantly Hindu country. There were a lot of things on the a la carte menu that are familiar from Indian cuisine, such as biryani (a Kashmiri specialty, eaten all over India as a celebratory main dish, consisting of rice and other ingredients), various breads such as naan, poori, roti, and paratha, and samosas. There were also some items that would be unfamiliar on most Indian menus. Kothe is an appetizer that is described as Indo-Chinese in origin, and is a fried dumpling in a sauce of tomato and cilantro. And then there is momo, a filled, steamed dumpling, which is actually Tibetan but has been enthusiastically adopted in neighboring Nepal for a long time. One of the dishes that does appear to be solely Nepalese is wo, a lentil pancake. Some of the dishes sound like an Indian dish but have a different name. For instance, one of the desserts, which I did not have because it wasn't on the buffet, is called lal mohan, but its description—deep-fried milk balls in sweet syrup—sounds like my favorite Indian dessert, gulab jamun. Both vegan and gluten-free dishes are available and marked on the menu, and Himalayan seems to be a place where a vegan can get a substantial meal; of course, like all Hindu influenced cuisines, it's easy for a lacto-vegetarian to dine royally.
My little luncheon group gave high marks to Himalayan and I did too. The service is polite and helpful, the buffet is excellent value, and the venue is inviting and relaxing. As a first time visitor, I was both impressed and intrigued, and there are a number of dishes I am eager to go back again and try. Among them are the kataar aloo—a vegetarian dish based on jackfruit buds, as well as the aforementioned appetizer, wo, and dessert, lal mohan. And I must try their biryani, which is my usual litmus test for good Indian cuisine. Himalayan is closed on Mondays, and on the other six days it opens at 11 a.m., along with the buffet. On weekdays, the buffet is open till 2 p.m., and Saturday and Sunday it's open one hour longer, till 3 p.m. You can also get items from the a la carte menu the same hours through Bite Squad.
Himalayan $
Dishing it: (ratings are 1-terrible to 5-excellent)
Friendly efficient service – 4.5
Food taste – 4.5
Food quality – 4.5
Food selection – 5
Vegetarian/vegan selection – 4.5
Social responsibility – 4.5
Bathrooms – 4
Beer and wine, etc. – N
Liquor – N
Credit Cards – Y
Parking – own lot
Transit/bike/walk accessibility – on frequent bus line, moderately walkable & bikeable
PHOTO: Himalayans Momo