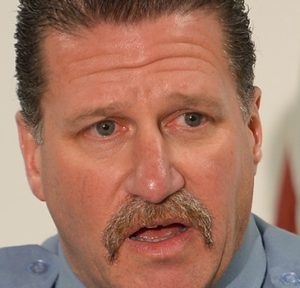 BY ED FELIEN
Hi Bob,
Did you see the latest issue of Southside Pride with your picture on the cover?
Was it a fair representation of your ideas?
I'd like to take you up on your suggestion that we go over more carefully the police reports and evidence collected in the Thurman Blevins killing. Do you think the attitude, approach and apprehension of Blevins by the officers would have been different if Blevins had been a white man in Linden Hills?
"Well, Ed, since you cower from an actual in-person discussion, I'll write your next article for you.
"Wow! That is some riveting journalism! Cut and paste our emails, put my picture on the cover, and promote it as an article to draw some people to read the liberal rag. Don't tackle the issues. Just review very old headlines. Let me guess, Ed, you were a Vietnam war protester, and have smoked dope every day since. You live in your mom's basement on the south side. And as long as the little paper keeps you in weed, everything's cool right?
"On Blevins—Do some responsible journalism. Review his criminal history—all of it. It's very long. Review the officers' records, including their honorable military service. The approach of these officers would have been the same for any officer—the color of the suspect is irrelevant. What is relevant is you are dispatched to him firing a gun off in a residential area, you locate him, he flees as he looks for an opportunity to kill you. You chase for 34 seconds trying to get him to surrender through verbalization. He doesn't comply. He points a gun at you and fires. You fire in self defense. All of his behavior that day was consistent with his prior criminal history.
"Color of the suspect is irrelevant. Actions are. End of story.
"Print that. But you won't, because it deals with fact."
Thanks Bob for your response.
Let's review the facts in the Thurman Blevins killing.
On July 30, 2018, The Washington Post reported:
Minneapolis police officers won't be charged for fatally shooting Thurman Blevins
"Please don't shoot me," Thurman Blevins begged as the two Minneapolis police officers closed in during a foot chase. "Leave me alone."
Moments later, he was fatally shot, and police said he had a handgun lying in the alleyway next to him.
The exchange is captured in body-camera footage released by the city of Minneapolis on Sunday, a little over a month after Blevins, 31, was killed.
Sirens on, they cruise down leafy streets lined with Victorian houses, passing through red lights. They don't see anyone matching the suspect's description.
Then, a few blocks from where the first caller had reported seeing a man wandering around with a gun, they spot Blevins sitting on the curb with a gray dog.
"He's got a bottle of gin," Schmidt says. "Is he … black tank top, tapered hair … yeah."
Then, with considerably more urgency in his voice, Schmidt says, "He's got a gun."
The car comes to an abrupt stop. Both officers jump out.
Blevins springs from the curb and starts running, dropping the dog's leash and nearly knocking over a woman with a stroller. He takes off down the street.
"Put your hands up! I will f—ing shoot you!" Schmidt yells.
Both officers chase after Blevins, shouting at him to stop and put his hands up.
"Come on, man. Come on, man. I didn't do nothing, bro," Blevins says as he runs.
"You've got a gun," Schmidt responds, using an expletive to address the man.
"I don't," Blevins calls back.
"Yes, you do," Schmidt replies "Put it down."
Sprinting past a white picket fence, Blevins rounds a corner and turns down an alleyway.
"Homie, please," he pants. "Please, don't shoot me. Leave me alone."
About 45 seconds into the chase, according to the Minneapolis Star Tribune, Schmidt starts firing. Blevins collapses. When the officers get closer, what appears to be a small handgun is lying on the ground near Blevins's right hand.
Hennepin County Attorney Mike Freeman said in a written statement, there was "no basis to issue criminal charges against either officer," because Blevins "fled from the officers with a loaded handgun, refused to follow their commands for him to stop and show his hands, and then took the gun out of his pocket and turned toward the officers."
The legal basis for that protocol for police conduct in handling an armed suspect is from a 2014 Department of Justice report:
"If the suspect points a gun at someone, or reaches for a gun in a way that indicates they're going to shoot, police are allowed to fire."
But that report also said, "We … discovered that officers do not effectively de-escalate situations, either because they do not know how, or because they do not have an adequate understanding of the importance of de-escalating encounters before resorting to force whenever possible."
The police video shows Officers Ryan Kelly and Justin Schmidt jumping out of their squad car, guns drawn, screaming at a man sitting on a curb holding a dog by leash with his right hand and a bottle of gin in his left: "Put your hands up! I will f—ing shoot you!"
Bob, if a squad car had to go to Linden Hills because some drunk white kid was shooting off a gun and was sitting on curb talking to a dog and drinking gin, do you think the cops would have jumped out of their car and said, "Put your hands up! I will f—ing shoot you!" and then chased him down an alley and shot him?
The county attorney has declined to file charges. I agree with his decision. Based on current precedent and protocol, if the officers felt they were in danger, then they were permitted to shoot to kill.
But Officers Kelly and Schmidt are also accountable to the chief of police and the mayor and the chair of the City Council Public Safety Committee. Did they follow correct protocol and try to de-escalate the situation? Would some drunk white kid sitting on a curb in Linden Hills with a dog on a leash and a paper cup or a bottle of gin in his hand have faced the same treatment?
Every one of us is entitled to equal treatment under the law.
We need a public statement from the chief of police, a statement from the mayor and a public hearing to allow the people of Minneapolis to respond to those statements.
Bob Kroll: This is not research. It is simply forwarding an article from an extremely liberal paper. And adding some nonsense questions to it.
"The entire investigative report from the BCA is available on line. All 1200 pages of it. I urge you to read it, and report the facts.
"The officers actions were lawful, proper and heroic."
PHOTO CAPTION: Lt. Bob Kroll