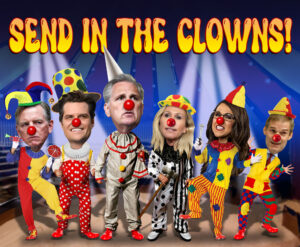 BY ED FELIEN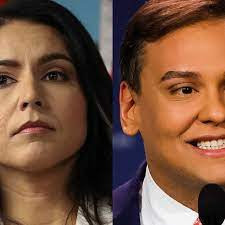 Tulsi Gabbard
Did you see Tulsi Gabbard's takedown of George Santos, the pathological liar and newly elected congressman from Long Island, on Fox News?  Tulsi is a lot more complicated and harder to figure out than most of the noise on Fox.  Her anti-war votes and speeches against the Iraq and Afghanistan wars were a nice answer to the BS we were handed daily by Bush and Obama.  I loved her leading an impromptu cavalry on horseback against the Keystone pipeline a couple of years ago while she was still in Congress.  She is very much a Hindu nationalist and Islamophobe.  She was raised in a Science of Identity/Hare Krishna cult, and she and her father, a state senator in Hawaii, were once quite homophobic (but not now).  Tulsi's stiff backbone and no-nonsense military bearing can be attributed to her religious fanaticism and her tours of duty in the military police.  She's drop-dead gorgeous, brilliant and tough as nails.  I love it that she's been picked up by Fox News.  Her takedown of Santos will have major repercussions.  I expect the unexpected and hope for clarity in the contradictions.
Municipal elections this November 
Again, so soon?  Didn't we just do that?
Personally, I wish we had municipal elections every two years.
The more democracy the better.
But Don Fraser, while he was mayor, managed to persuade the voters to change the charter and make city elections every four years.  This worked until Rep. Phyllis Kahn passed an amendment to a redistricting bill in the legislature that required the city to hold a new election for City Council that conformed to a new population census, so every 10 years the City Council has only a two-year term after a census.
It looks to be a rather ho-hum affair.  Most of the incumbents in South Minneapolis have managed to stay out of trouble and have been modestly progressive on most issues.  The only real excitement will be in the 12th Ward where Andrew Johnson is retiring, and a number of young people are vying for his seat.
There quite possibly might be a challenge in the 2nd Ward by a DFL candidate going up against Robin Wonsley.
Wonsley is running as a self-declared socialist.  As far as we know she is not seeking DFL endorsement. She was at one time associated with Socialist Alternative, the U.S. branch of the International Marxist Tendency, a Trotskyist group that has a worldwide organization.  Their sole elected representative in the U.S. is Kshama Sawant, an Indian American member of the Seattle City Council since 2014.
Members of Socialist Alternative have run at least twice before for seats on the Minneapolis City Council.
Ty Moore ran in 2013 in the 9th Ward.  We were wildly enthusiastic—contributed money, time, tried to block the DFL endorsement.  He lost and then left town.
Ginger Jentzen organized the $15 an Hour Now campaign that was critically important in increasing the minimum wage in Minneapolis.  She ran in the 3rd Ward.  We were very supportive.  She lost, but she still lives in Northeast and has been very active in local politics, especially around the campaign to win rent control in Minneapolis.  She co-wrote a piece with Joe Hesla for Southside Pride on building a movement for rent control in July 2021: https://southsidepride.com/2021/07/19/the-struggle-for-rent-control/
We were wary when Robin Wonsley ran in 2021.  We admitted she was probably the most progressive candidate in the city, but Cam Gordon was clearly the most progressive incumbent on the City Council, and he had been carefully looking after problems in the 2nd Ward.  We thought constituent service counted for something, so we endorsed Cam but hoped Robin would stick around.
Well, as it turned out, Robin won, and we had a perfect record with SA candidates: 0 for 3.
We hope some DFL candidate emerges in the 2nd Ward.  We would probably still endorse Wonsley for a second term, but the debate could educate voters about priorities and possibilities for city government.
Stay tuned.